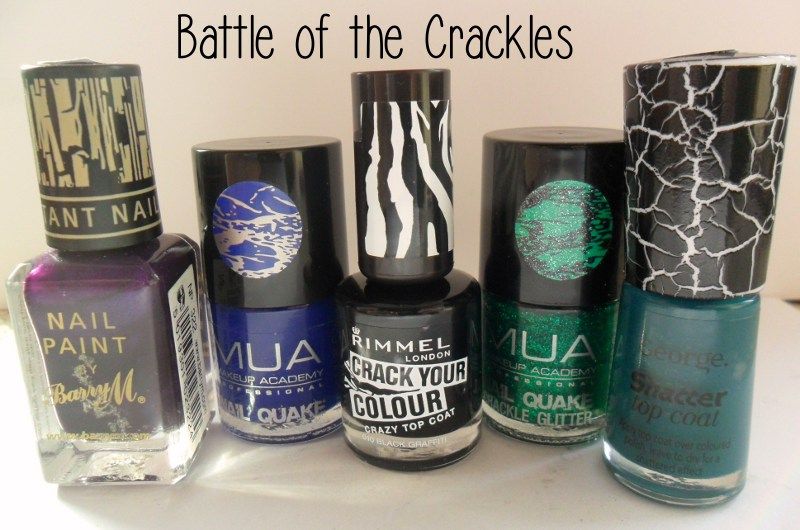 I know some people hate them, but I rather like crackle polishes. Especially now they come in so many different colours from affordable ranges like Barry M and MUA. It's an easy way to spice up a plain manicure without having the faff of nail art, like most effects top coats.
I have managed to pick up a few different ones so I thought I'd do a quick comparison and review, luckily for me I only have five distinct varieties (I'm counting the glitter nail quake as different to the original nail quake as it does turn out very differently!) to go on my five fingers.
The five I have are
Barry M Instant Nail Effects
(Purple Rain),
MUA Nail Quake
(Quiver)
, Rimmel Crack Your Colour
(Black),
MUA Glitter Nail Quake
(Green Glitter) and
George Shatter
(Teal). I know the colours are all different, which could account for some differences, but I don't really want five black crackle effects when I have one which works already! And I can vouch for the Barry M and George having the same performance across a few colours.
All one thick coat of the crackle polish over a base of two coats of Nails Inc Basil Street a nude coloured base polish (I don't like this colour much alone, it gives me mannequin hands - which I know were trendy once - and makes me look weird. It's good under things though, and since I got it free with Glamour I'm not complaining!). 'scuse the dodge edges. Apparently I forgot all about clean up since I took it off again straight away.
Barry M, Rimmel and the MUA Glitter all crackle the way (in my opinion) they're supposed to. They look like they've shattered properly and you can decently see the polish underneath. The original Nail Quake and the George are rubbish, they look all streaky and wispy.
The winner in my eyes is the
Barry M Instant Nail Effects
. It crackles nicely, comes in several colours and is affordable (Superdrug and Boots regularly have Barry M offers, as well as the website themselves often running discounts through their mailing list) and easily accessible. (This beats Rimmel on colour range alone really, the Barry M purple won it for me, they are both equally priced - RRP £3.99 - and work just as well)
Honourable mention goes to the
MUA Glitter Nail Quake
. While the original was rubbish, this performed well and it gets points for being a glitter, which I haven't seen. The website currently only lists two shades (green and copper) but there are probably more as MUA tends to totally remove out of stock items from their site instead of just listing out of stock.
Loosers are
MUA Nail Quake
and
George
Shatter
. They are equally rubbish and although they're cheaper than the Barry M and Rimmel (MUA has an RRP of £2.99 and George is £2.75 though I purchased mine for £2 and £1 respectively) and George has a much bigger shade range, they're not worth the saving. Unless you are a fan of the streaked effect.
I know that some of these may have been an issue with certain colour formulations, I've heard others like the MUA Nail Quake at least, but I don't want to risk wasting my money to find out and unless there's a specific colour you are after I'd play it safe and stick with the Barry M or Rimmel.
Barry M Instant Nail Effects
is available in six shades with an RRP of £3.99. They can be purchsed at
Barry M Online
or in Superdrug, Boots and larger Tesco and Asda stores
Rimmel Crack Your Colour
is available in 4 shades with an RRP of £3.99. They can be purchased from Superdrug, Boots, Tesco, Asda,
Asos
and
Semichem
MUA Nail Quake
is available in multiple colours (website displays six for the original and two glitter) with an RRP of £2.99. They can be purchased at Superdrug or
MUAStore Online
George Shatter
available in mutiple shades (check your local store) and has an RRP of £2.75 though they are on offer for £1 at time of writing. These are only available at Asda stores.