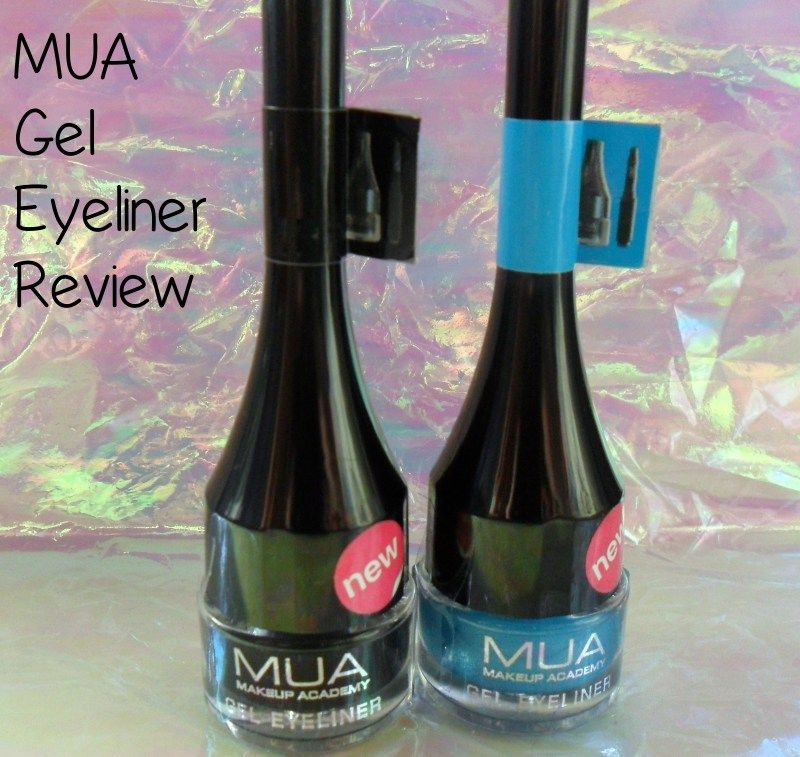 The Basics:
"
They are intensely pigmented and super slick and come in four shades, from the classic black of 'Underground' to the beautifully bold blue of 'Tribe' and are completely smudge-proof once the product has dried. And the most exciting bit of the product is the unique brush applicator, which is cleverly hidden in the lid, which has been designed so you can create an array of long-lasting looks and styles which in future blog posts and videos I will be demonstrating."
(from
MUA
)
Swatches: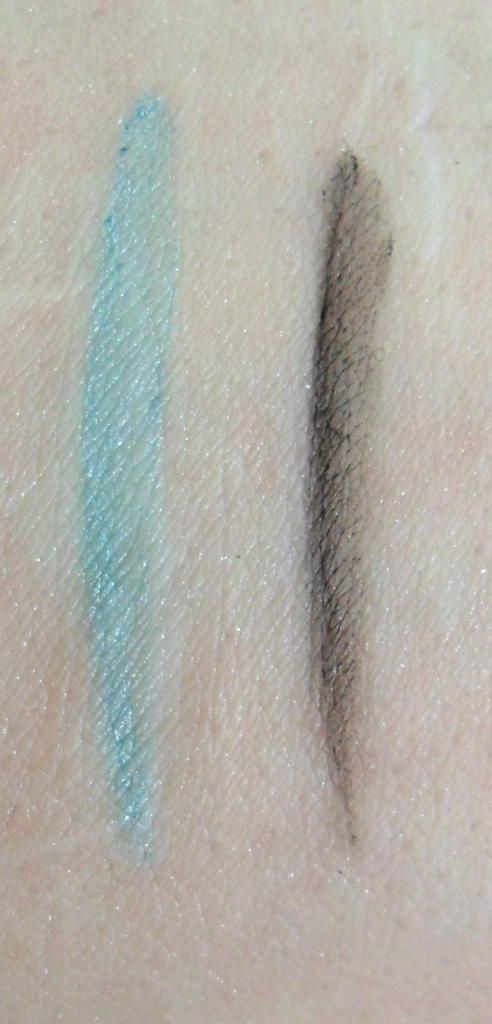 Left = Tribe: Bright, sparkly gorgeous blue.
Right = Underground: Plain matte black
Overview/Opinion:
The pots for these are rather pretty in my opinion, I like the long handles and I like seeing the colour through the glass. It's the little things. I also really like that this comes with the brush in the handle, and that you can snap the brush into it, giving the option of a long or a short eyeliner brush.
The colours are pretty good actually. They're pigmented though you may need two swipes to get a very strong/deep colour depending on application technique (I've found some days I need a couple swipes, I put it down to how rushed I am that day affecting application. As you can see the swatch looks sheer, but it looks better on my eye as you can see in a few of the FOTDs where I've used the black liner, you'll just have to trust me on the blue)
Application is easy. The product is smooth and glides on, no tugging and clumping like the technic liner. As I said sometimes you need to use a couple of swipes, but going over again doesn't rub anything off. And the brush is right there in your hand!
Staying power wise, this is amazing. It doesn't smudge after it's set (which happens fast), it doesn't run when you get it wet (and believe me, I wore it a day I ended up in hysterics twice, impressively tear proof), no transfer to the upper lids when you open your eyes. Love it! It does last on the waterline, with some fading during the day, but I can't say I road tested it properly as I just don't like putting the brushes on my waterline. Sorry guys. It did feel a bit like it irritated my eyes, but I'm not 100% sure whether that was the product or the brush and don't fancy finding out while my eyes are being a bit silly anyway. If I do I'll update :)
Removal is easy as pie using eye-makeup remover. Wipes right off and doesn't stain.
I am tempted to get the brown, but I do have my eye on the Collection liners to test as well... and I'm supposed to be on a spending ban.
Positives:
Amazing staying power, doesn't smudge, waterproof (and tear proof), doesn't flake, lasts long time on waterline. Easy to apply, really smooth. Pigmented, Tribe is lovely and bright. Brush provided, sits in the lid – easy to travel with. Budget-friendly and amazing value for money.
Negatives:
The pot is quite little. Could cause some irritation on waterline. Sticker on the brush can be a pain in the backside to remove.
Where to Buy:
MUA Gel Liners are available at Superdrug or
MUA Store
and retails at £3.