So yes. My MUA order arrived yesterday. I have to say I'm very impressed, I only ordered things on Thursday. "But what about the spending ban?" I hear you cry. Well, this was an order I planned to make way before I started the spending ban, I just had to wait for things to be back in stock. And it was kind of fuelled by pre-funeral sadness, so I'm letting myself off the hook.
This is what I ordered: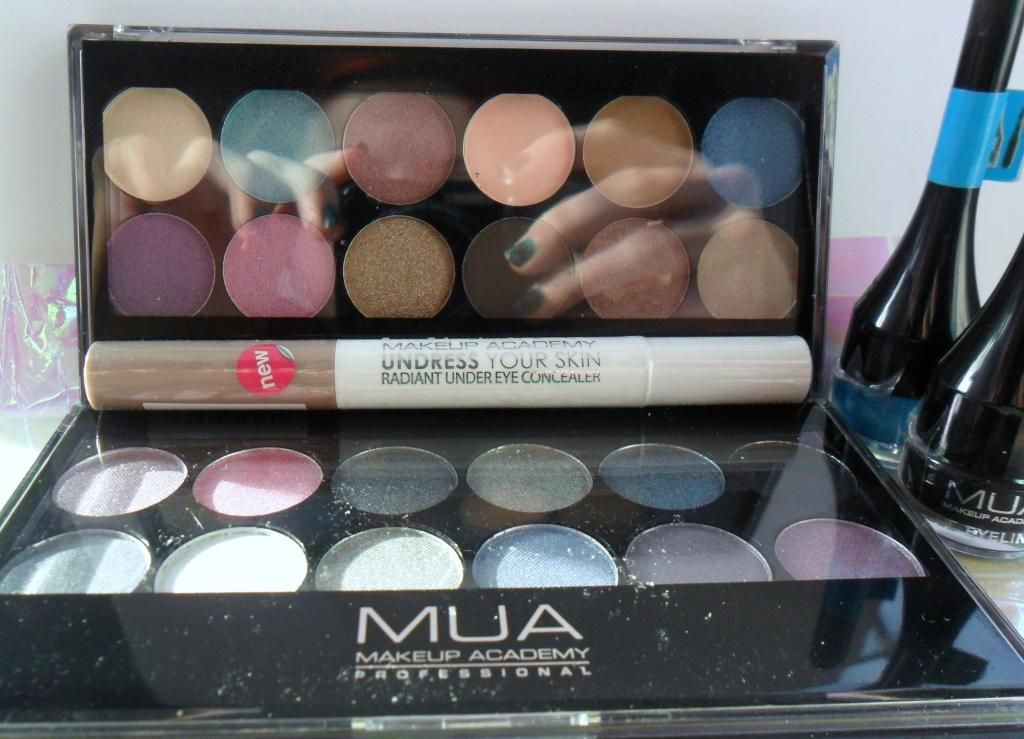 Pro Palettes in
Glamour Days
and
Starry Night
(forgive my reflection in the photo, they're pretty reflective), Undress Your Skin
Radiant Undereye Concealer
and the Gel liners in
Underground
and
Tribe.
Super excited to try out the gel liners, I've read good reviews and given my experience with the technic liner (review pending) I really want these to change my opinion on gel liners so far!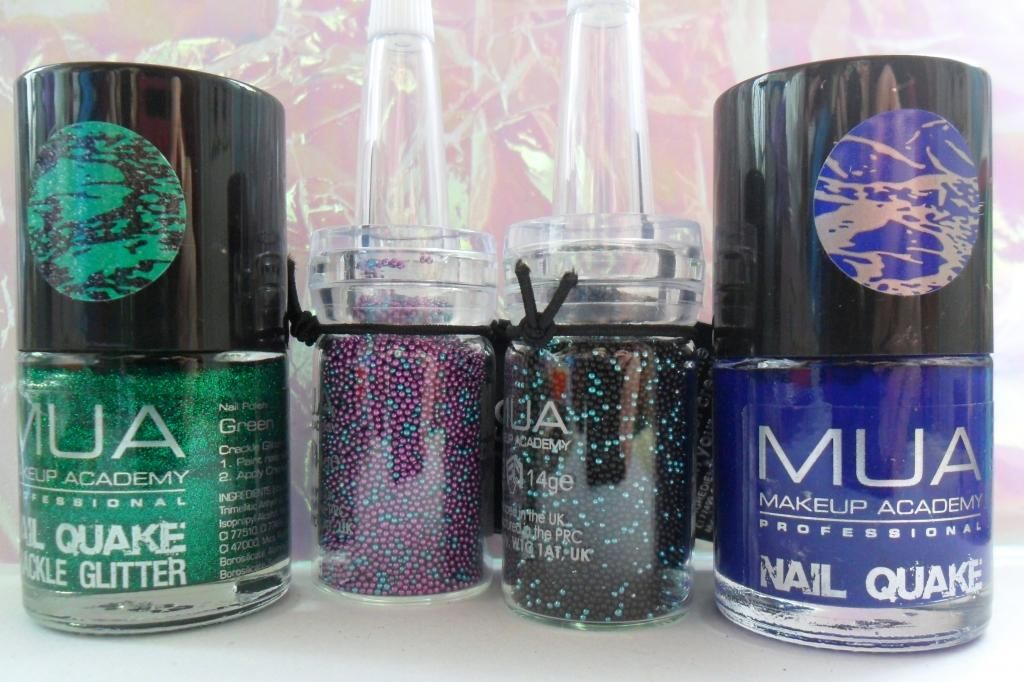 Glitter Nail Quake in Green, the Nail Constellations in Leo and Libra, and the plain Nail Quake in Quiver. I always said I'd never really understand "caviar" nail type things. They seem very messy and impractical, but I've heard if you use a top coat the beads stay put pretty well and with such pretty colours at only £2 it seemed rude to say no! Hoping to have a play with these soon.
E1 eyeshadow brush, E2 eyeshadow contouring brush and F4 powder brush. Again very much looking forwards to trying these :). I was hoping to get the eyeshadow blending brush too, but that sold out before I got a chance, much like the ELFstudio powder brush does (I blame the beauty bloggers! haha)
I shall have swatches and reviews coming throughout the next few weeks as I try things out.
As for the ordering itself, I'm really happy with MUA for the most part. This is I think the fastest I have ever had an order arrive for anything (outside of downloads of course) and everything was well packaged. The palettes, nail varnishes and constellations were all bubblewrapped safely, the brushes had these attractive plastic pouches (which I attempted to take pictures of but it just became a reflective, glare-filled mess) that held little cards naming the brushes and detailing their purposes, there were no breakages or missing items, and the invoice was included with everything circled so I could see they had checked and included everything. I am disappointed that I didn't get any kind of notification my package had been dispatched, it's one of those things that I expect as standard from any online order. I want to know when my package has left so I can estimate a delivery time and have an idea if something has gone wrong or the package has been lost in transit. That's my only real complaint though.