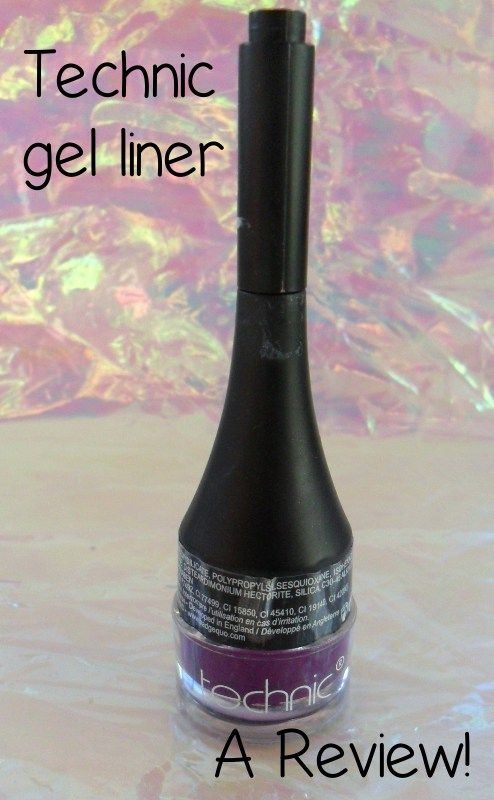 The Basics:
This is a purple gel liner I picked up on a whim for a couple of quid in Bodycare. Technic is owned by a company called Badgequo and is described as
"
Fun, fresh and totally on-trend, Technic boasts an array of beautifying cosmetics and makeup accessories that create head-turning looks. Constantly updated and always at the forefront of fashion, Technic is a chic yet fun range that ensures all the latest looks can be successfully achieved.".
It's a range I commonly see in budget or discount stores and does seem to be geared towards a younger audience due to the pricing and packaging (a lot of the stuff reminds me of the kinds of things I got at Christmas as a kid!).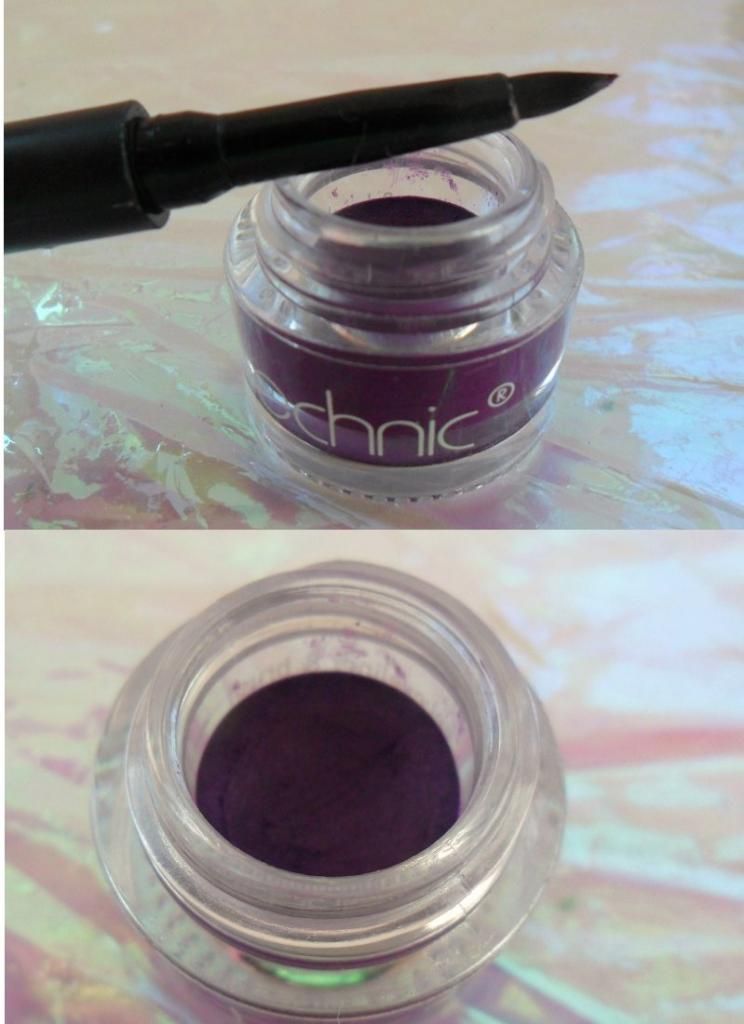 As I said I found this in Bodycare, which is a discount cometics store in my hometown and carries a lot of Technic makeup. This was the last one left in store and was not sealed or boxed. No one had touched the actual product to my knowledge – there were no fingerprints or brush marks and the included brush was clean. But I can't be 100% certain it had never been opened prior to my purchase which could have an impact on the quality of the product and thus my review.
Swatches: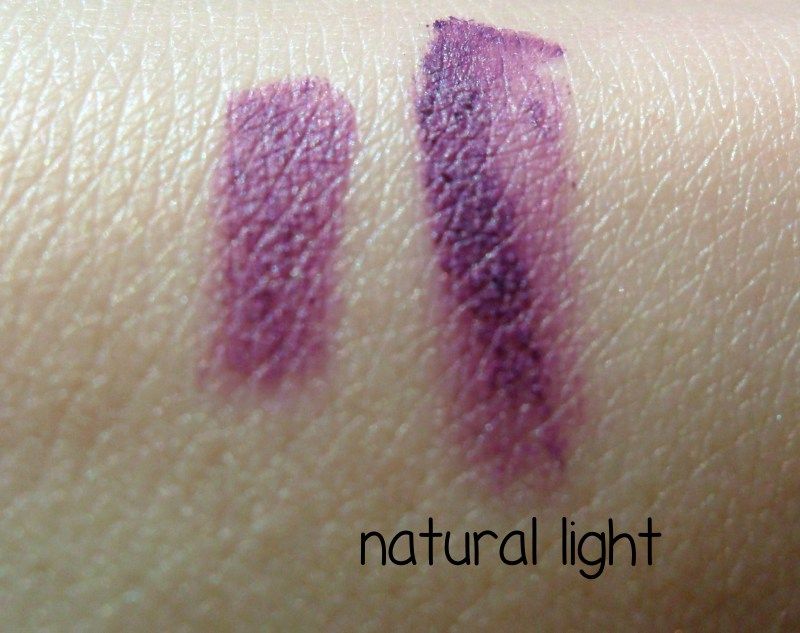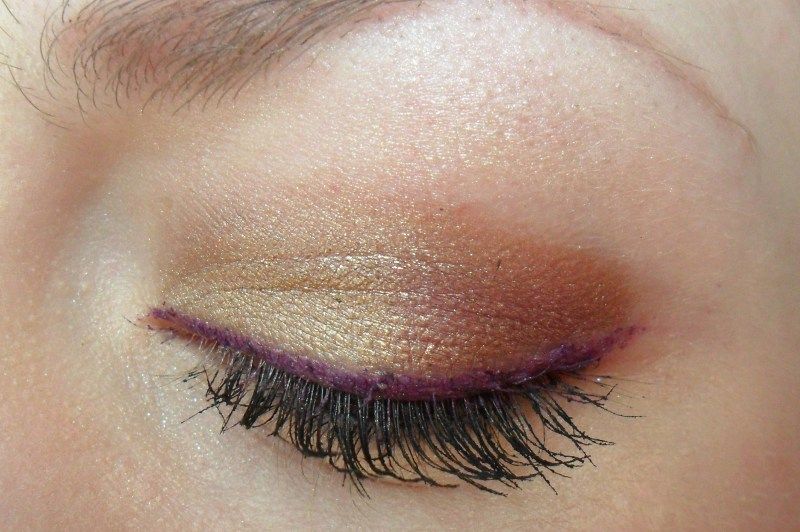 you can see the patchy/lumpyness a bit there if you click to the larger image :(
Overview/Opinion:
Lovethymakeup – online retailer linked from official site – describes this as "long lasting, waterproof gel eyeliner with brush allows you to create a precise line, close to the lash roots for an intensly defined effect."

though their product image differs massively from my product. Maybe they've reformulated and repackaged? I'm not sure.
Packaged with a brush which you use to apply the liner to the eyes (or wherever else I guess, though I doubt it's lip safe!). The brush is inserted into the lid, you can see where the break in the lid is that signifies the start of the brush portion. You just pull the end of the lid and the brush pops off. Brilliant idea! Saves me from having to buy a tiny eyeliner brush and it would be perfect for handbags or travel as it means you can bring the brush with you and not worry about it getting damaged or lost.
The purple is a more red-toned purple, a quality which shows up more on my waterline than my upper lashline and did make me look a little ill when I wore this on my waterline! But overall the colour is okay, the pigmentation isn't brilliant when applied but neither of my MUA Gel Liners seem to go on super dark and intense first swatch. I'm used to liquid liners, so not 100% sure if this is just a coloured gel liner thing? Either way something to note.
Application is where this product falls apart. As I said I'm not sure whether I managed to pick up a dud, but for me this was really dry and so hard to get on the brush. I found that kind of swirling the brush around in the pot helped, but that can't be good for the brush and you end up with an excess of the product on the brush. Getting the liner on the eye is another problem, I found it applied quite patchy and clumpy to my eye at first, after a few strokes it evened out and I got a decentish line, but that was so annoying and hard. Plus the product just tugs at my eye when I'm applying which I'm sure will give me wrinkles, and it irritates my eyes and feels unpleasant. Overall very dissapointing on the application front.
As far as staying power and removal goes, it lasts really well. The liner is waterproof, smudgeproof and didn't transfer onto my upper lid during the day, or create that smudgy/smokey/melted look under my eyes. On the waterline it also lasted all day, literally around 9/10am to about midnight/1am when I finally could be bothered to properly go through my make up removal and cleansing routine. It had faded a little, especially closest to my tearduct where my eyes had watered, but nothing massive and you could still see the eyeliner there. It wasn't too hard to remove, you do

need a good eye makeup remover (probably one designed for waterproof makeup) but as I always wear waterproof mascara I do have a waterproof eye makeup remover anyway and it took everything off pretty easily, especially if you do the "soak then wipe" technique.
Overall I wouldn't get another of these, it's really let down by the application. On every other front it works well, stays forever, is waterproof and similar in pigmentation to the other gel liners I have and easy to remove. But the dryness and dragging and difficulty to get onto the brush just make it totally not worth it to me. Even at under £1.50. Sorry.
Positives:
Lasts all day, even in the waterline. Lovely colour. Comes with brush. The brush is easy to carry around with you and hard to lose as it slots into the lid, great for handbags.
Negatives:
Patchy. Hard to apply. Feels very dry. The pot is tiny which makes it difficult to pick up product on the brush.
Where to Buy:
If for some reason this review made you deeply desire this product you can purchase it online at Lovethymakeup for £1.99
I paid £1.48 in Bodycare so keep an eye out in similar shops.